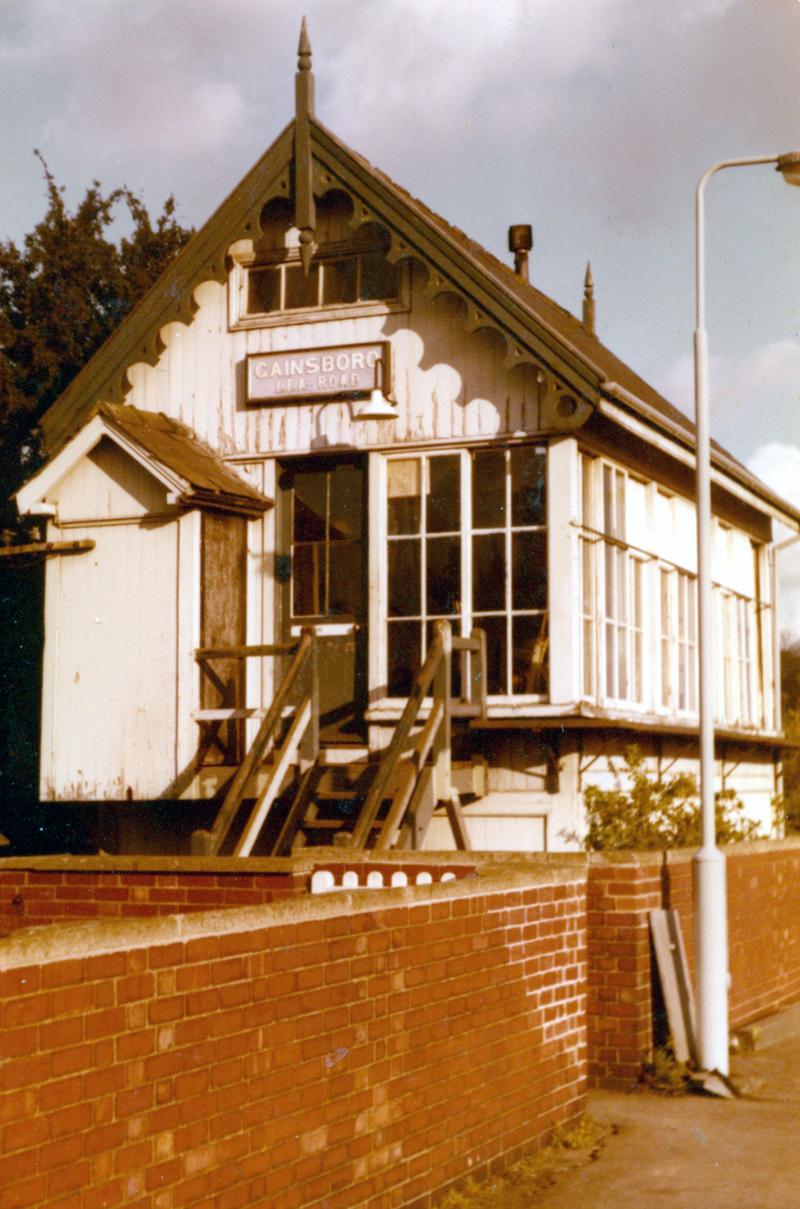 Gainsborough Lea Road signalbox pictured in April 1981.
Picture courtesy of Alan Lewis.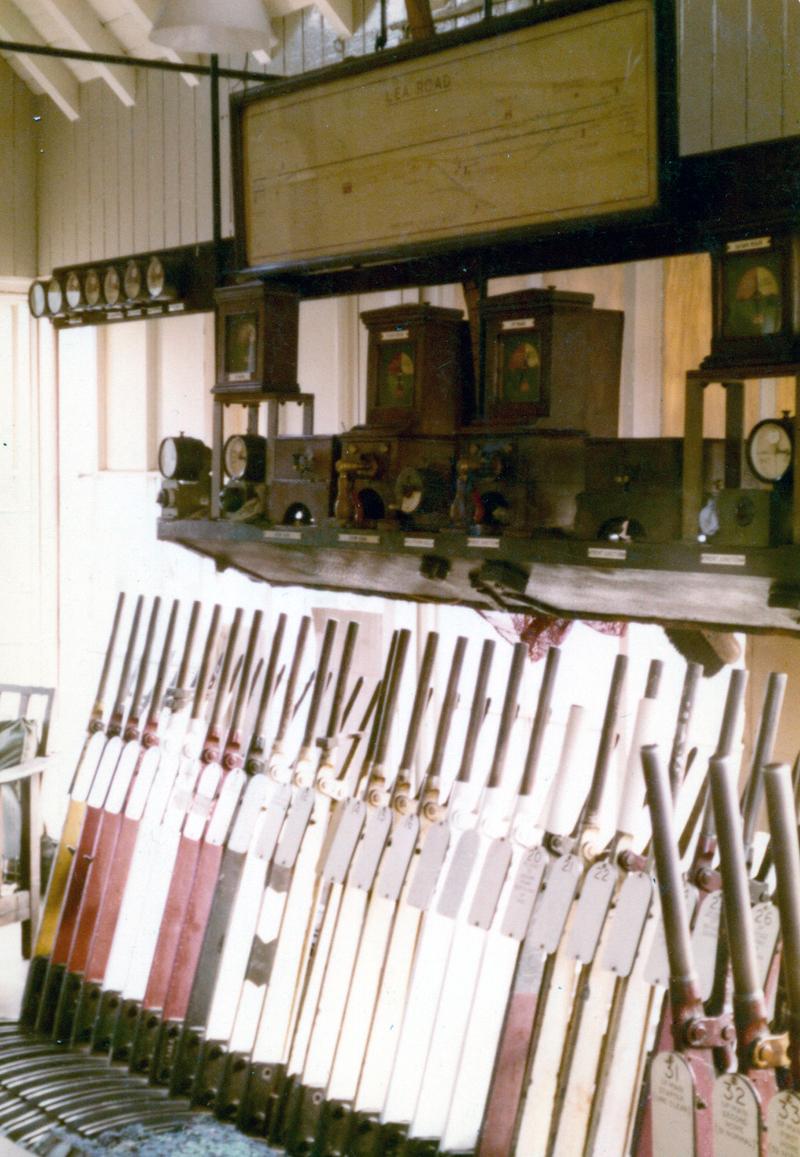 An interior shot in April 1981.
Picture courtesy of Alan Lewis.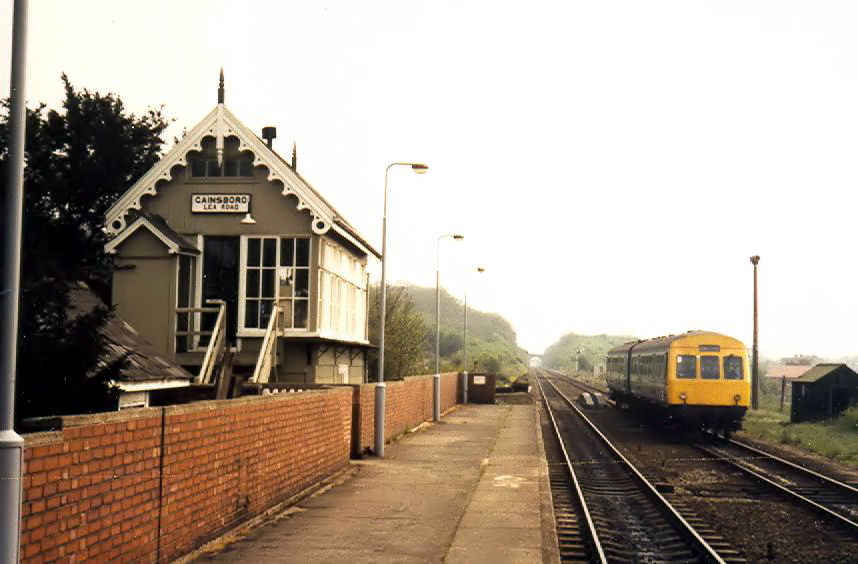 A Lincoln to Sheffield DMU passing Lea Road signalbox and approaching the station in May 1985.
Picture courtesy of David & Alan Hook.
Gainsborough Lea Road was one of three signalboxes situated in Gainsborough in recent years, along with Gainsborough Central and Gainsborough Trent Junction which remain open today, although both have a planned closure date of 2016.
Lea Road opened in 1877 but started out as Gainsborough South signal box. Gainsborough North was situated just around the corner towards Trent Jn, this was later replaced with a ground frame and South signal box was renamed Lea Road in 1895 when it had its lever frame made by Evans, O' Donnell & Co fitted.
It was severely damaged by fire on the 11th of February 2009 caused by a faulty heater. It never reopened after the fire. All the signalling was dismantled and the block section was shared between Stow Park and Gainsborough Trent Jn.
In January 2014 it was officially closed as part of the massive£280m upgrading of the GN/GE route to relieve the East Coast Mainline of freight. The new points and signals at Lea Road are now controlled from Lincoln Signalling Control Centre using modular signalling as Stow Park was also eventually closed as part of the upgrade.
The station at Lea Road, which opened in 1849 is still open and serves Gainsborough Town along with Gainsborough Central, however Central station is only open to passengers on Saturdays. A recent survey found that a percentage of residents of Gainsborough didn't know that Central existed and thought they only had one station due to the lack of use!
Central is said to be the worst and least used station in the UK.
In the next series of images, you can see the ever changing rail scene and the constant changing of station and line names.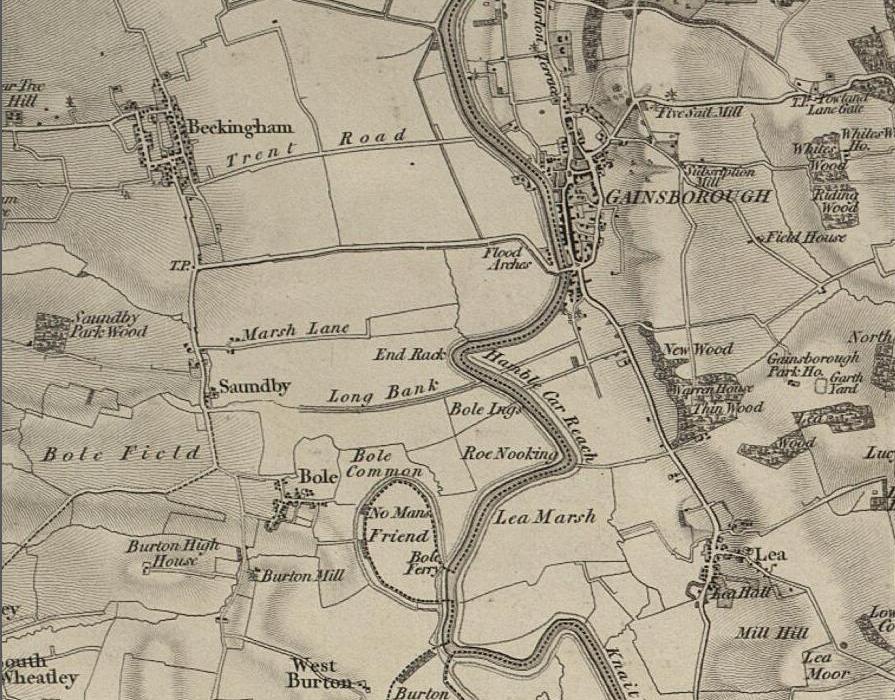 This map dated 1856, shows no railway at all. The line was opened in 1849, so either the map is dated wrong, or updates were very slow!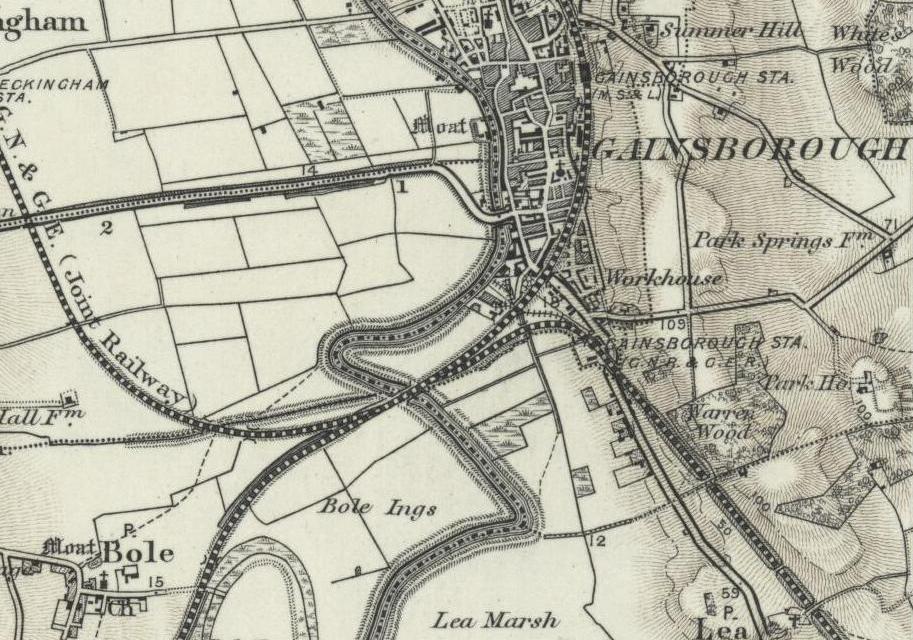 This map is dated 1899, and now shows both the Doncaster to Lincoln line (GN & GE Joint line) and also the Sheffield to Lincoln line (M,S & L; Manchester, Sheffield & Lincoln line).
Both stations are named Gainsborough, but this was common with two rival companies as each company wanted to have the best and most popular station.
Stations with the same name were later renamed to avoid confusion once the regrouping of companies was introduced as you will see in the next map images.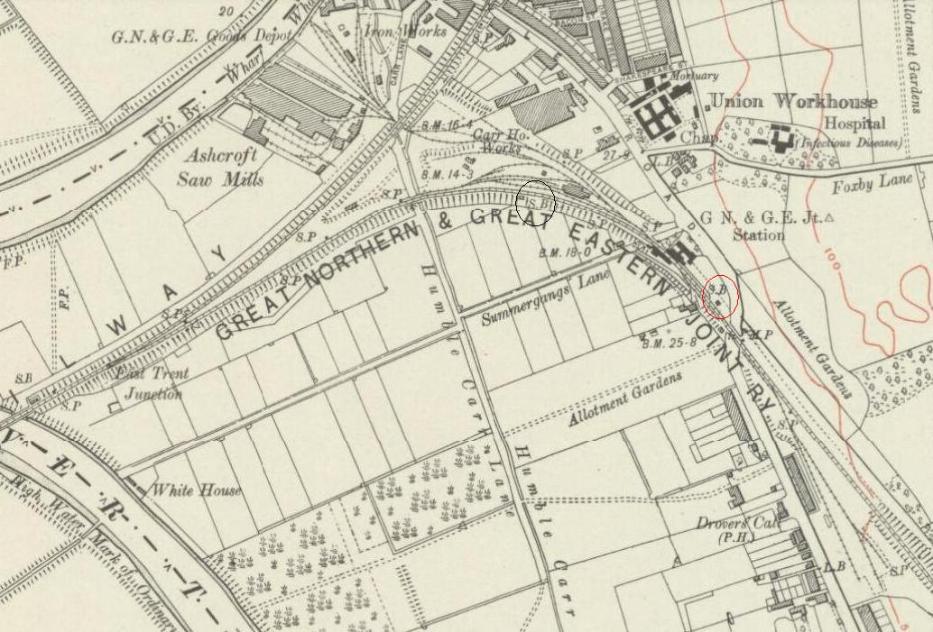 This map dated 1918, and Lea Road station is renamed GN & GE Joint station. You can now see that they also have a goods depot in the top left and a connection into the saw mills and iron works.
Lea Road signalbox is circled red, and Gainsborough North signalbox is circled black, although this is now classed asa ground frame.
There is also a sidings line at the southern end of Lea Road station.
The line formally known as the M, S & L, is now known (on the map) as the Great Central line. The map people must have been fed up with the constant line and station name changes!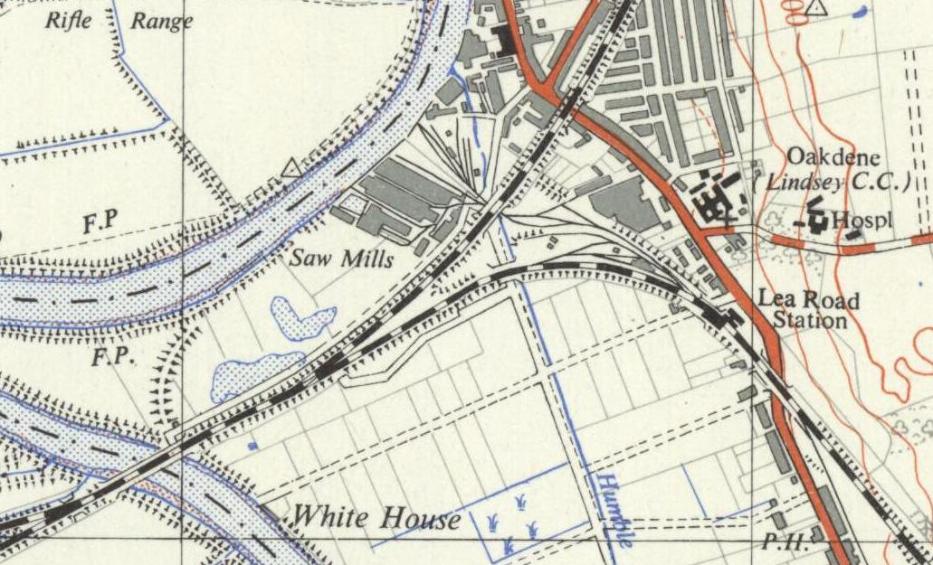 1950 and now with the nationalisation of the railways both stations are renamed to Central and Lea Road.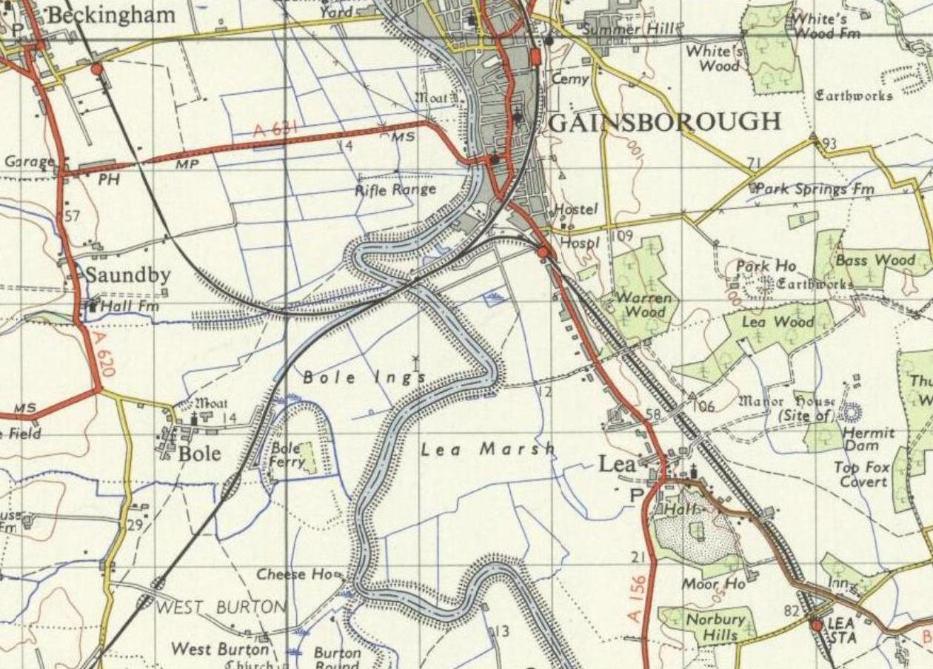 Just four years later in 1954, and already the sidings lines into the goods depot are reduced to one. This was later closed and demolished and today in the access road to the grain store, the rails are still visible in the tarmac.
The access line into the old oil sidings is in situe but is closed and secure out of use.
What is also visible is the station at Beckingham. The A631 bypass and West Burton power station are yet to be built.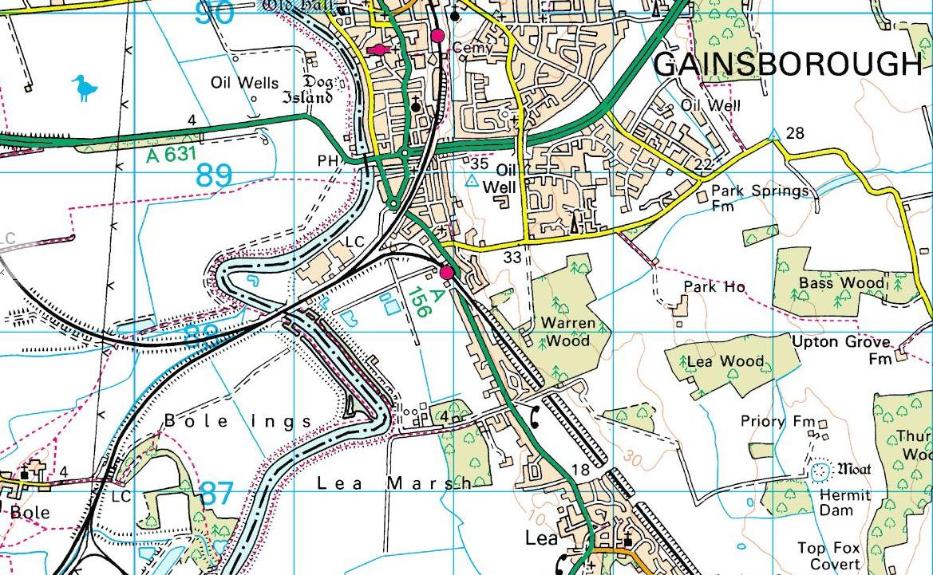 Image from ordnance survey recently,and it shows little change since the 1954 map apart from West Burton PS and the A631 bypass being built.
You can also see that Gainsborough and Lea have grown in residential size.
Stations and lines today are no longer named.